Hola Hola de nuevo!!!
Bueno, para hoy les traigo una banda de Osaka, Japón. Originaria del movimiento Visualkei, Dir en Grey optó por un estilo más occidentalizado, su influencia está muy marcada por el Nu Metal y Experimental, han logrado ser una banda muy reconocida en muchos países.
Banda: Dir en Grey
País: Japón
Género: Metal Experimental
Tracklist.
01. Audience Killer Loop
02. The III D Empire
03. Increase Blue
04. Syoku Kurenai
05. Sajou no Uta
06. Red...[Em]
07. Asunaki Koufuku, Koenaki Asu
08. Marmalade Chainsaw
09. Kasumi
10. R to the Core
11. Drain Away
12. New Age Culture
13. Obscure
14. Child Prey
15. Amber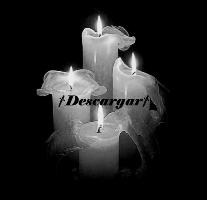 Les dejo acá también, el video sin censura de mi pieza favorita de la banda, un video bastante grotesco por cierto jeje! que lo disfruten.