Pin-Up Went Down es el resultado de una interesante combinación de géneros musicales que a simple oído parecería increíble que una banda los pueda mezclar. Este dúo de franceses han sabido llevar muy bien una exquisita unión de diversos géneros como el Pop, Indie, alternativo, Avant-Garde, Metal y otros.

El álbum 2Unlimited aunque bien se puede definir bajo muchas perspectivas positivas como lo son en parte la gran variante instrumentalización o la genial vocalización de Asphodel, también muestra sus caídas o fallos en el momento de querer lograr un material sintético de tendencia experimental, es notable escuchar muchas veces un sobrecargo en la música que se puede volver algo extrenduoso y precipitado. Me parecio aveces algo simpatico el contraste de voces de la voz masculina y la femenina pero es un material interesante para los que buscan cosas diferentes.
Grupo: Pin up went dawn
Disco: 2 unlimited
Genero: avant garde metal
Pais: francia
Año: 2008

Tracklist

01 - Intrusion
02 - Esthete Piggie
03 - Nearly Dead Bat Make Up
04 - Cadavre Exquis
05 - Pussy Worship
06 - Get Ready To Sweep
07 - Yo-Yo Yes Then No
08 - Only Some Shitty Chemical Stuff
09 - Human Beat Box Deluxe
10 - Feat.Me/Feat.Us
11 - Be My Idol Then My Fall
12 - Serie Z I
13 - Serie Z II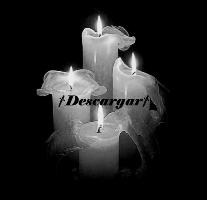 Hoy tambien tenemos el agrado de tener otro blog enlazado, se trata de "black kiss"- suspiros d e la noche, un blog que recien comienza pero promete muchoy sube la mayoria de los discos de la banda que publica cada dia.